Shopping Center Renovation
This 40+ year old shopping center was in need of a face lift. Rents were not where they could be for the market area and tenants were voicing their disapproval of the dated look of the center. After the face lift the property owner was able to ask for and receive higher rents. This million dollar face lift paid for itself over a short period of time with the increased rents.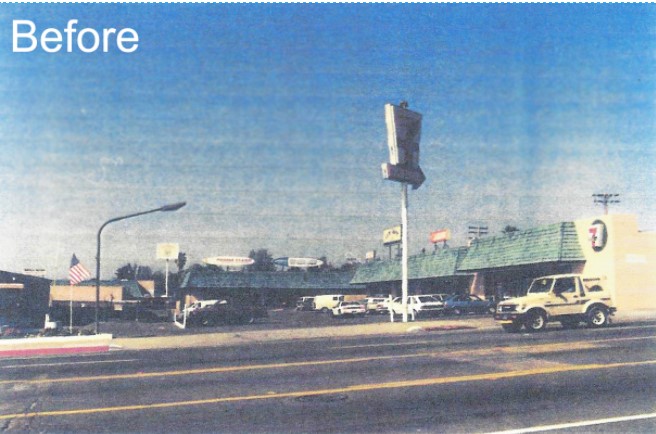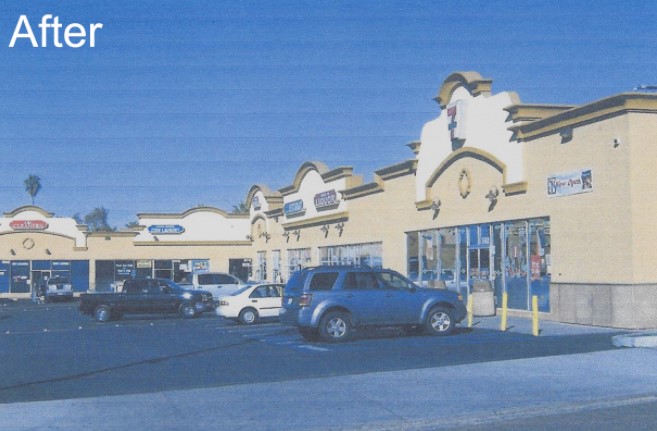 Kitchen cabinets that were over 30 years old made from particleboard covered with a photo finish (literally a photograph of wood applied to particleboard) along with an old fashioned Formica counter. Over the years the photo finish has been dissolving. While we have in some cases completely replaced the existing cabinetry and installed new cabinets in some apartments when possible we have refinished both the cabinets and the counter tops. We have taken the old fashion stark white walls and applied some warmer colors and taken a dated apartment and given it a fresh updated look.
Wouldn't it be great if there were a way to handle your commercial property rehabilitation projects and tenant improvements without the headache?
Upgrades and repairs are a natural part of owning real estate, and here at GERSON PROPERTIES we make it our business to know how to get the job done — with the most value for your money and the least amount of hassle for you and your tenants.
We coordinate everything:
Search out service providers and obtain competitive bids.
Analyze price and quality factors.
Recommend to you which vendor to use.
Schedule the work and make sure it is done with the least interruption to other tenants.
Handle all coordination between contractors, tenants and all other necessary entities.
Ensure work is done correctly and the area is clean before payment is made.
Provides 24/7 availability throughout the entire process.
The next time you need to rehab or upgrade your commercial property, consider our services.
Here are a few of the projects we frequently manage:
Roof repairs or replacement
Exterior and interior painting
Parking lot repairs or repaving
Lobby remodels
Hallway and restroom upgrades
Landscaping redesign
Equipment upgrades
Reduction of energy consumption
Rehab your commercial property without the hassle! Call us today.
Toll-Free: 888.805.9991
Fill out our request form for a quote!
Give us a call at (888) 805-9991 or click the button below to send us an email!